PRESS / 2004 / Real Imitations /
Uddrag af anmeldelse, Berlingske Tidende
BMA 10.  juni  2004, 2 sektion, magasin, Torsdag: Kunst, side 10
Real Imitations. Galerie Egelund, Bredgade 75, København.
Fire Stjerner

Af Torben Weirup
Fornyelse
Fem unge kunstnere født mellem 1975 og '78 har fyldt Galerie Egelunds lyse rum med en påfaldende energisk udstilling af talentfulde malerier, skulpturer og en enkelt, meget original og i mere end én henseende grinagtig video. Sidstnævnte, der er skabt af Jacob Tækker, kombinerer en tegning på selve væggen med et levende billede, og tilsammen bliver det til en morsom historie om en mand i en rutschebane. Allan Otte har malet stemningsfulde billeder, der fornyer realismen. Udgangspunktet er ofte moderne, så at sige anonyme landbrugsejendomme som han kombinerer med absurde indslag eller store farvede felter. Martin Falles og Karin Kasters malerier besidder en stor kompositorisk dynamik, og skulptøren Heine Clausen arbejder med overraskende sammenstillinger af former og materialer.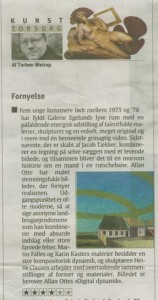 Ophængning og fernisering: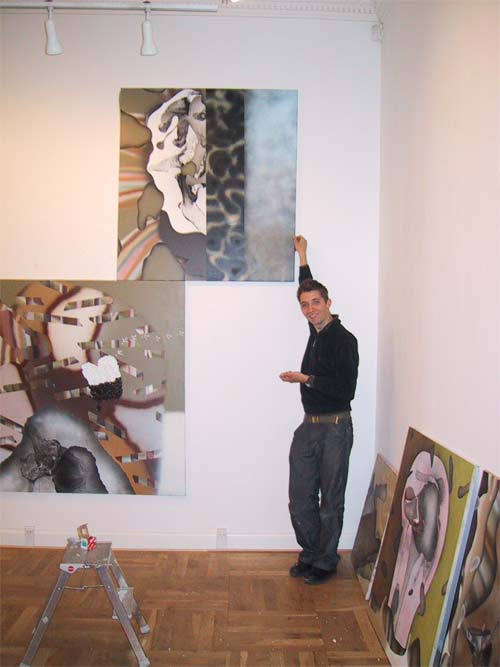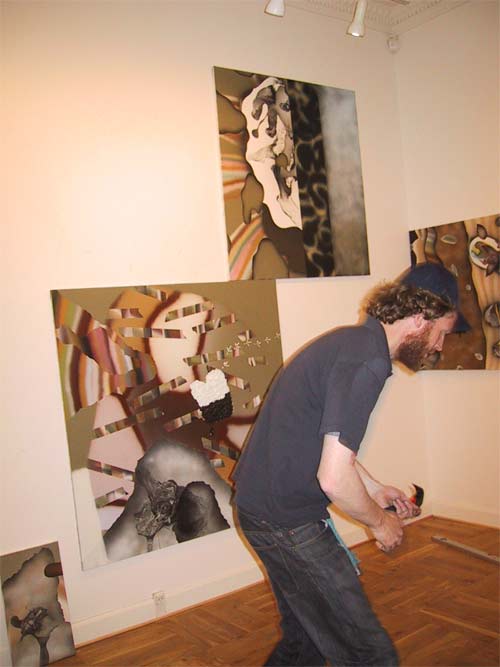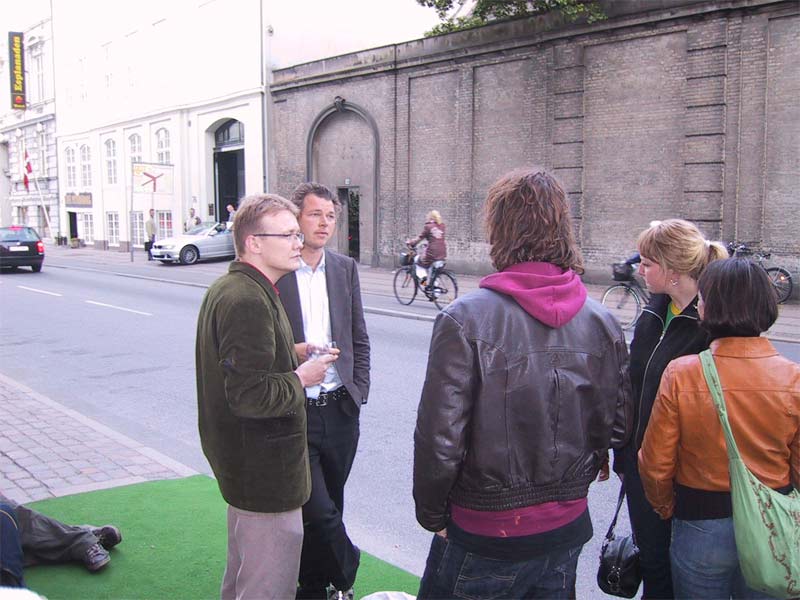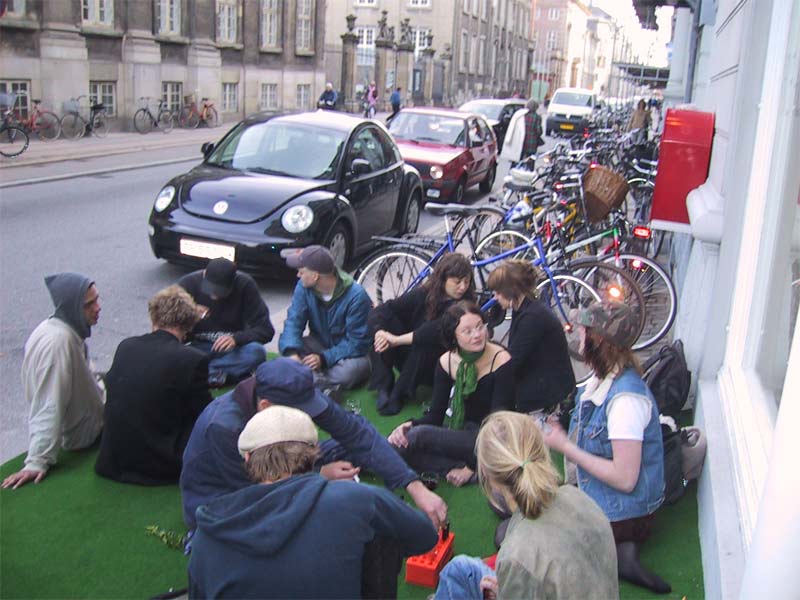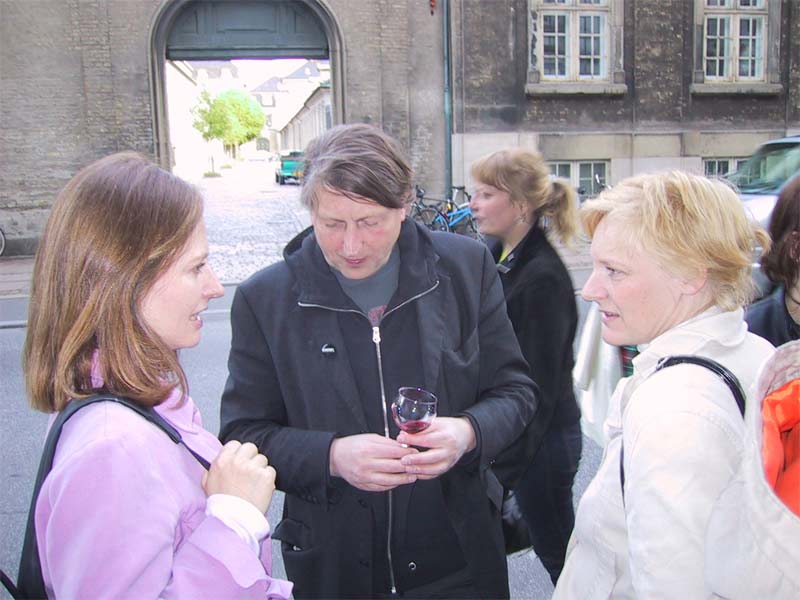 Text / 2004
Real Imitations
Group Exhibition at Galerie Egelund, 2004
With the artists Allan Otte, Heine Klausen, Martin Falle and Jacob Tækker
Danish text in folder by Ole Lindboe, editor at Magasinet Kunst.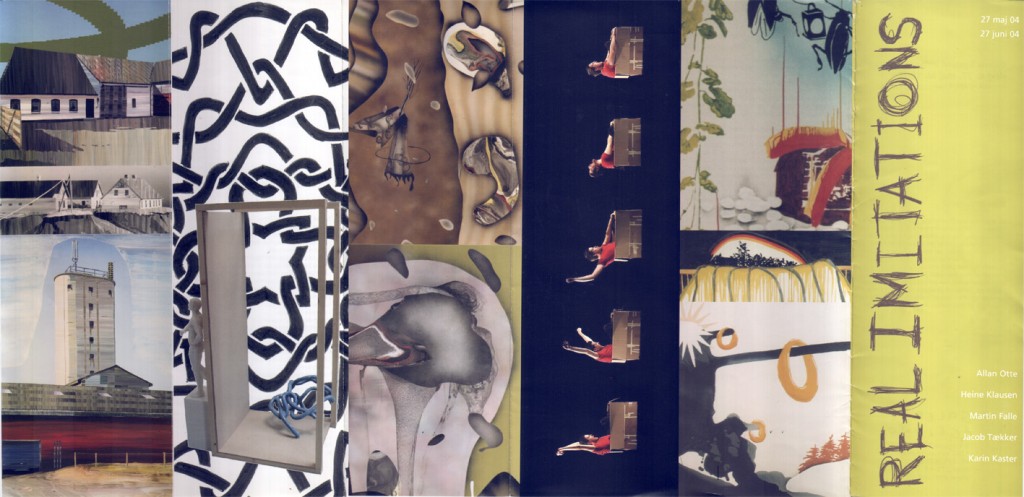 Introduction:
Real Imitations?
At imitere betyder at efterligne. Men derfor kan efterligningen sagtens forekomme lige så virkelig som det, den efterligner. Hvem er original og hvem er kopi? I modernitetens univers er der svimlende lidt forskel på det autentiske og det, der foregiver at være autentisk. Noget kan også være så kunstigt, at det fremstår skarpere og mere sandt end det reelle.
Kunsten er mere end noget andet det sted, hvor den slags eksperimenter kan gennemføres. Kunst er både illusion og virkelighed på samme tid. Og kunstnere bevæger sig ofte – som en linedanser oppe under cirkusloftet – på linen mellem det virkelige og det uvirkelige.
Kig selv efter.
Ole Lindboe
Karin Kaster
Det eventyrlige
Karin Kaster (f. 1975) bevæger sig som maler i et eventyrligt univers. Men det knitrer med en diskant lyd. Måske er der noget galt? Vi husker alle indledningen "Der var engang". Og så går det ellers løs, med forviklinger og forhindringer, sådan som vi forventer det skal. Og til sidst, en lykkelig ende. Eller hvad? Den barnlige drøm kan alt for let kæntre. Eventyr er skrøbelige, akkurat som livet er det.
Der var engang, sådan begynder alle Karin Kasters forunderlige billeder. Men der er hele tiden noget der skurrer i hendes billeder. Billedet mumler. Det er fyldt med hvid støj og dunkle silhouetter. Angsten ligger på lur, sære objekter dukker op i billedfladen og forløbet er helt uventet. Selve hendes maleri er i det hele taget sært. Hun blander alle mulige ingredienser, som i et ulogisk puslespil. Maler transparant eller pludselig med tyktflydende pensel. Pludselig sirligt – og i næste øjeblik bevidst kluntet. I det ene felt er det akvarelagtigt, i det næste felt får den med en hurtig spraydåse. Det skaber i sig selv en spænding i billeder. Som om det stritter i flere retninger på én gang. Hendes virkelighedsspejl er skævt eller gået i stykker. I sprækkerne lurer det uventede. Karin Kaster blander sine metaforer på en fandenivoldsk måde, der er både befriende og humoristisk.
Ole Lindboe