Press / 2005 / No Sound of Birds
Uddrag af anmeldelse i Berlingske Tidende 23. september 2005, 4. sektion, guide, side 20
Syretrips i naturen
Karin Kaster, der er født i 1975, er blandt de yngre malere, der i disse år markerer sig med et nyt, interessant maleri karakteriseret ved en stor dristighed i anvendelse af farven. I hendes drømmeagtige billeder mødes arkitektoniske fragmenter med regnbuer og stiliseret natur, så det er en lyst.
Af Torben Weirup, kunstanmelder
Uddrag af anmeldelse i Berlingske Tidende 29. september 2005, 2. sektion, magasin, side 11
Pluralisme-tid
Der er imidlertid også andre strategier end det brændte ler. Det ny maleri, f.eks. reaktionen mod det formelle og konceptuelle blev bl.a. til et nyt figurativt billedsprog, hvor hele arsenalet af historiske stilarter og alverdens teknikker står til rådighed. Her i disse mælkeveje og stjernetåger af billedfragmenter er det om at slå ned og holde fast. Collagens velkendte muligheder for overraskelser blandes med de silende farvers abstrakte tilstedeværelse. Det er et farligt maleri, der let kan blive uhyre overfladisk, effektjagende og meget ironisk, men sættes ingredienserne sammen af en personlighed, så kan der blive mere for øjet end moderigtige lækkerier. Karin Kaster viser hos unge Christoffer Egelund, d.v.s. Bredgadegalleriets baglokale, at hun i hvert fald nogle gange kan skrue billeder sammen, så man også får lidt at tænke over. Et pletskud er »On the way to the mountains«.
Af Ole Nørlyng, kunsthistoriker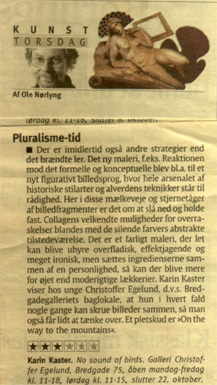 Uddrag fra Ugens udstillinger, Jyllands-Posten 23.  september  2005, kulturweekend, side 13
Postmoderne kunstner
KØBENHAVN Galleriet præsenterer en mindre ophængning med den unge danske kunstner Karin Kaster, som tilhører den nye generation af malere, der uden at ryste på hænderne blander vidt forskellige udtryk sammen. I Karin Kasters billedunivers mødes nyrealistiske tendenser og farvestrålende popkunst med arkitekturtegninger samt eventyr- og børnebogsillustrationer.
Af Tom Hermansen, kunsthistoriker